Panorama boat tour - Brijuni
Sail with us and discover the beauty of all 14 islands of the Brijuni archipelago
A panorama boat tour with Taxi Boat Elen consists of a sightseeing of all 14 islands of the Brijuni archipelago. Departures are from Fazana, small picturesque municipality. While sailing you can enjoy taking pictures of Fazana and surrounding places and our guides will offer you a welcome drink. Soon we will enter the protected waters of Brijuni national park and the first island called Veliki Brijun.
In the next hour, our guides will explain and show you all the most important historical and nature facts about the park. Along the way you will see hotels, villas, a golf course from the time of Paula Kupelwieser, the ideal initiator of tourism from the time of the Austro-Hungarian monarchy.
On the island of Mali Brijun you can see the Austro-Hungarian fort Minor, where during the summer months the theater performances of the famous Ulysses Theater are held, led by Rade Šerbedžija. In the follow-up tour you will see the ruins from period of Italy, Tito's three residential villas, a dinosaur sculpture, as dinosaur footprints have been found on almost every island. Island named Vanga, that's been Tito's favourite island that he lived on for almost 26 years. Island Vanga can be photographed. Vanga and the three Tito's villas are not opened for the public and are used for protocol meetings.
After visiting the Brijuni archipelago, we reach the last of its islands named St. Jerome, where you can stay for a swim and relax yourself. The return is arranged with a guide. The island has breath-taking nature and, beautiful beaches, a restaurant and a bathroom facilities. On island of St. Jerome you will be in sweet company of friendly peacocks and donkeys.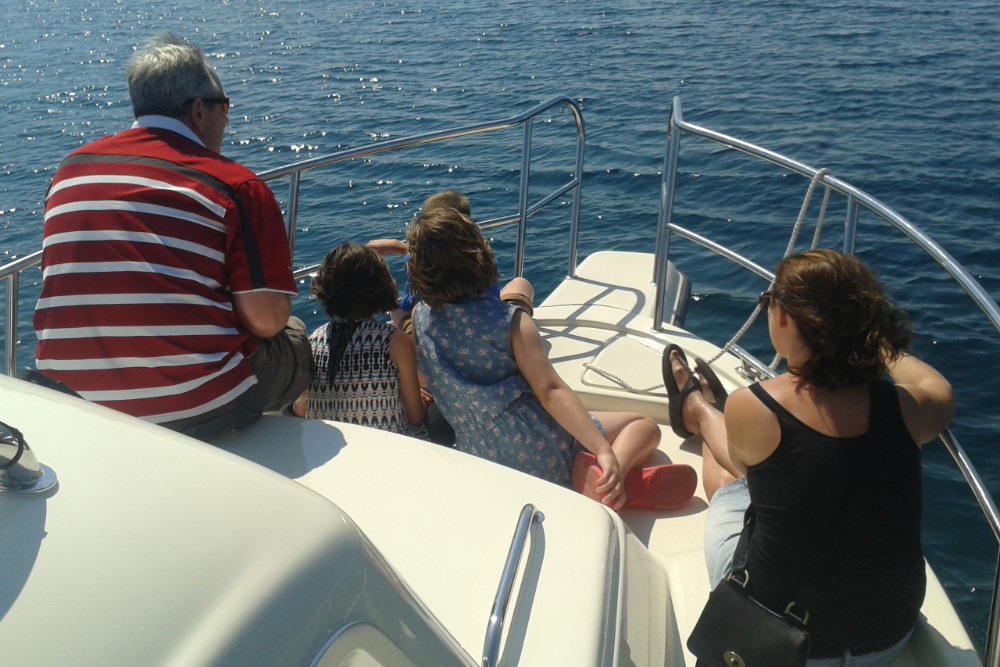 • Departures from Fazana: 9:00, 10:30, 12:00, 16:00h
• Tour duration: 1,5h, without stop on island of St. Jerome
• Stop on the island of St.Jerome / Veliki Brijun: optional, in agreement with the tour guide
• Returning from St.Jerome: in agreement with the tour guide
• Price of panorama boat tour: adults 30€, children 4-12 years 15€
• Methods of payment: cash, on the day of department
• Entrance fee for island St.Jerome is paid on the island. Adults 5€, children 7-18 years 3€
• Suitable: for all ages
• Dogs are allowed
Contact Us
Our communication with you is of extreme importance to us. Please feel free to contact us with any questions, suggestions or concerns:
TAXI BOAT ELEN
T: +385 (0)91 512 30 60
E: info@taxiboat-fazana.eu
We are looking forward to seeing you!